WORLD SCHOOL Curriculum
At  WORLD SCHOOL, children master two curricula simultaneously:
Cambridge Primary programme comprising the primary WORLD SCHOOL subjects:
English as a second language (ESL),

Maths,

Science,

Technologies,

Extra-curricular subjects
The curriculum "New Ukrainian School", approved and licensed by the state includes the following components:
Ukrainian as the first language,
Physical Education,
Art and Music,

STEM classes,

Project waves
Learning concept
Learning process means studying, but not teaching. This is a voluntary process, built on the motivation and active participation of both sides: students and teachers. A WORLD SCHOOL student is not a passive listener of lectures, but he/she is instead an active and equal participant in the accumulation and systematization of knowledge, skills, and beliefs. Learning is a dynamic process in which the teacher accompanies, observes, helps and … also develops him/herself.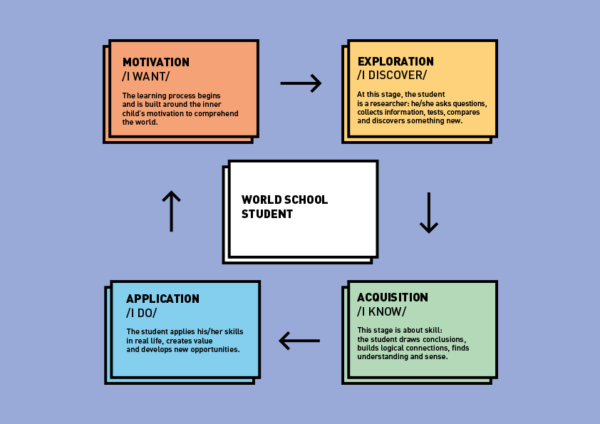 How is the concept of study at WORLD SCHOOL realized in practice?
Fundamental knowledge
We use the most up-to-date international techniques, additional textbooks and materials so that each of our students achieve his/her educational goals.
English classes
Preparation of students for transition to international classes, where the teaching of most subjects will be conducted in English. The primary goal of such classes is fluent communication in English without interpreting or translation. Graduates of such English-language classes will then have an opportunity to enter the best international universities in the future.
The approach "Think as a mathematician"
Mathematics is not merely a set of formulas that needs to be studied.
It is a language of thinking, a connection between neurons of the brain, which is built in childhood and becomes the core for the rest of our lives.The mathematical mind can be taught and trained in the same way as the body is in sport. We use the most effective techniques and structural training to maximize the development of brain muscles of each of our students.
Individual approach
There are no more than 15 students in each class. Each and every student works with a mentor or a tutor who takes into account their interests, their abilities, and their pace in the learning process and helps them to progress.
Integrated classes and projects
Basic knowledge requires its integral application in real life. During the study process, each topic is taught and learned from the point of view of different subjects and is implemented practically.
Teachers of WORLD SCHOOL
All teachers and tutors of our school are highly experienced specialists, selected upon the results of:
several interviews;

testing (assessing professional knowledge, personality type, and values);

WORLD SCHOOL compulsory education and certification;

practice before starting work;

annual certification.
School culture
Our school's culture plays a major role in the learning process and its outcomes. It is based on the following principles:
each child can study, but everyone studies differently;

children study most effectively if they take an active part in the process of building their knowledge and personality;

the interaction of teachers and students is based on the principles of trust, honesty, security, mutual respect, responsibility and cooperation towards a common goal;

independent actions and belief in our own strengths.
The teachers' behavior is passed onto our students through the assimilation of values and customs that exist in our school environment. Consequently, the teachers' personality is absolutely vital.
Educational base
In our everyday work, WORLD SCHOOL uses only the syllabi, teaching methods and learning approaches revised and certified by the international community. Our educational base consists of:
scientific information in education and scientific fields;

study materials and techniques from certified organizations;

Ukrainian and international certified school curricula relevant to the students' age.
Space for studying
Our school space is organized to support our students in their progress. This study space provides the opportunity for the formation of pedagogical versatility and flexibility in the achievement of our educational goals. Space is safe and environmentally friendly for both teachers and students. It includes:
modern and functional furniture;

interactive screens and boards;

an exhaustive range of teaching and learning resources;

fire and sanitary safety systems.
Environment
The priority of the WORLD SCHOOL is to create a strong, motivated environment and a circle of like-minded people sharing similar values. Those who have already succeeded in life are direct examples for our children, and they set the stage for their progress. Our teachers and invited specialists are professionals of the highest standards and values of WORLD SCHOOL.